'Spillage' – Accidental Red Wine Blend
It's great to have a good new wine to release- and even better if it has a good story!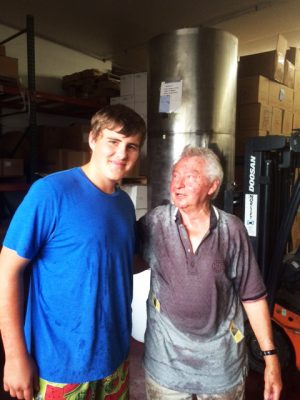 A few years ago we were all working in the winery getting things ready to bottle, when I heard a loud WHOOSH from the other end of the cellar.
WHOOSH is never a sound that you want to hear in the winery.
I look over to see that our son has poked a hole in one of the wine tanks with the forklift and a gusher erupted of reserve red wine!
Josef was quick to act, ran over and covered up the hole with his hand; just like the story of the boy and the dike. He was soon showered in a
beautiful Merlot & Cabernet blend! Our son helped clean up the mess all the while staying clean without a drop hitting him.
As the wine was 'slightly disrupted' during it's making it took us several years of additional aging and finesse to get it ready for drinking. It would be even better but the other half of the vintage flowed out into the pond during the spill. The goats and llamas had a very good happy hour that day.
Enjoy the deep rich flavor of blackberries and strawberries, color of dark garnet along with light tannins and a long, slow finish.
Savor every drop- because the rest of it isn't here!