Sparkling Lilli RED is back for a limited time!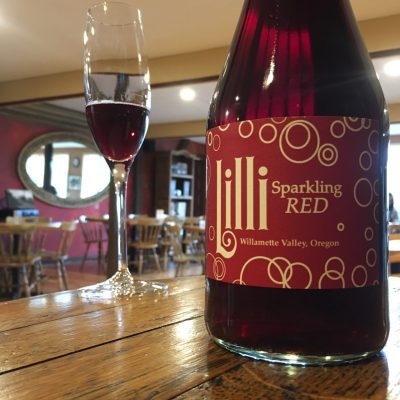 It's been an honor to have our wines repeatedly listed as some of the favorites of the Oregon tasting experts.  And our Sparkling Lilli Red has been discovered!
Here's what they said- "If there is ever a lull in conversation, open this wine. The tasting panel could not stop discussing it. The deeply jeweled red hue must be the color of joy. Candied cherry, vanilla, spice, sweet smoked cherrywood, cola, dark cherry leather — the descriptions would not stop."
Made from our Estate Grown Syrah – it is bright, fun & bubbly! This sparkling wine has a deep, rich red color with black cherry & strawberry.   And with enough bubbles to keep you coming back for more!  It is great as a pre-dinner sparkler or in the evening with foods from pizza to BBQ.  Named for the matriarch & boss of the family…
Back for a limited release for the month of July!
Come out and enjoy!