Summer Wines are Here!
We've worked hard in the vineyards and the cellar to make some great wines for you to enjoy with friends and family!
Lilli Sparkling WHITE
Named for the matriarch & boss – fun, fruit forward bubbly made with Riesling.
Estate Harvest White Blend
Gris, Chard & Riesling – light, fruity with apples, pear and touch of smoke.
Kitara CHARDONNAY
Rich apple & toast notes- aged 15 months in new Oak Barrels. Made especially for Tara.
'17 Kitara PINOT NOIR
Special select of our favorite barrels in the cellar. Enjoy ripe cherry, earth & spice.
Kitara is named for the founders' son & daughter
Kitara SYRAH
Our estate grown Syrah ~ Rich plum, black cherry, mocha, light tannins & long finish.
WMR- Winemaker's Red Blend
Deep, dark, rich and delicious blend of Cabernet & more…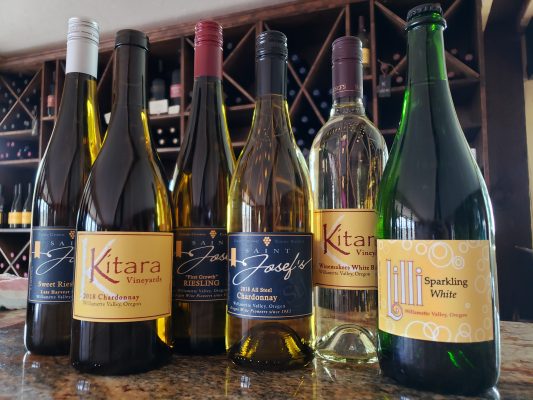 Come out and enjoy!
Open Fridays, Saturdays & Sundays 12-5pm.
Music & Food Sunday afternoons.  
Sunday 8/1 Cycle for a Cause
TJ Sailing Music & Food from COOP BBQ and CRUST Pizza
Sunday 8/8  Dave T Music – Food TBD
Sunday 8/15  Music Richie Bean- Food TBD
Sunday 8/22 Michele Van Kleef & Crawdads!  Featuring Bayou Bros Cajun Boils