9th Annual Aurora Wine & Chocolate Walk                                                        
Saturday & Sunday December 7th & 8th 2019
What? – Local Wines, Artisan Chocolates, Vintage Shopping- all for a good cause!
Where? – Historic Aurora Oregon.  Oregon's First Historic District (www.auroracolony.com)
just 30 minutes south of downtown Portland &10 minutes from Woodburn Outlet Mall.
When? – Saturday& Sunday December 7th & 8th 2019
Why? – A benefit for Habitat for Humanity and a fun "Holiday" thing to do….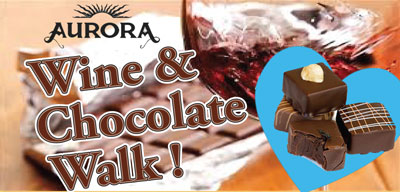 Over the past  years we have earned over $5000 to non-profits!  We doubled the size of the event as it got covered in the newspapers & attracted over 350 people & everyone loved it!
Aurora Wine & Chocolate Walk  
Passport for Two includes

Two 'Aurora' wine glasses
shopping bag
Wine Tasting & ChocolateTasting at 6+ locations
Chocolate or Savory Tasting at 6+ locations
$18 to spend in town on merchandise in the form of 'Aurora Bucks'good on the purchase of $3 off any merchandise – including wine or chocolate
(off  purchase of $10 or more- can use up to 2 in one location)
BUY NOW and save 10% off advance purchase…   aurorawineandchocolate.com