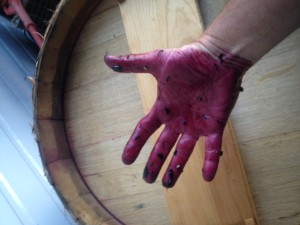 The harvest is here!
We having been bringing Pinot Noir and now today Pinot Gris.  THe long hot summer has made the grapes ripen a little earlier.  Last year we started to harvest Pinot Noir on October 16th- this year we started September 16th!  But as you can see by the picture- the fruit is really dark and juicy….
We've already done a bit of Rose' in the traditional 'saigne' method – which we strain some free run Pinot juice right from berries and let them soak with the skins for just one night. This produces a light, bright wine that will be ready for early summer.   
Are you looking for more vineyard fun- or want to help out?
Join us for our October 19th- 'working' harvest dinner.
A special day is in the works.  We will venture into the vineyard to check out some grapes, harvest a few and bring them down to the cellar.  We will check the grapes and also taste some of the wines that are going through fermentation.  We might even have to punch down a few grapes to extact even more color.  Then after all that "hard work" we will have to taste some wines in the cellar….
After that it's upstairs to enjoy a rustic European Style Harvest dinner prepared by our friend- Chef Hans D'Alessio and served family style.  Of course all washed down with new releases.
For more information and reservations check out our events page https://stjosefswinery.com/events-calendar/.
Limited seating, so get your spots early.